Fun and Adventures in the Orr Area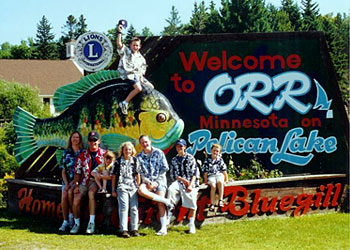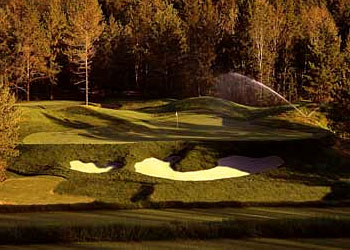 Bring your golf clubs! There are 9 golf courses to choose from within an hours drive of Aspen Resort, and all of the golf courses are public courses.
Borders Canada by International Falls, MN. It is mainly a water-based park which makes it the most unique National Park. There are no roads in the Park accept to the 3 Visitor Centers where you can learn about the voyageurs and the history of the park. Boat tours are available to Kettle Falls, the America Gold Mine and to experience the park in all its beauty.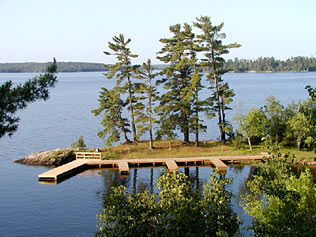 See the black bears in the wild, with no cages or fences, in their natural habitat from the safety of an open viewing deck. Trained representatives of the sanctuary will explain bear behavior as it happens and will share information about the bears. Open Memorial Day through Labor Day.
25 miles NE of Orr. A cascading flow of water dropping 100 feet through narrow channels of granite, over rapids, waterfalls and finally through a 10 foot wide opening to empty into Crane Lake. 1/4 mile round trip gravel path, handicapped accessible, picnic tables, water & toilet available.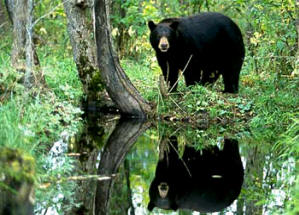 Trail head located in the community of Crane Lake, just past the Voyageurs National Park Office, 27 miles NE of Orr. A one and a half mile gravel, slightly challenging trail with interpretive signs, 3 hours round trip. The trail has high bluffs that overlook the Vermilion River running through narrow channels of granite and provide a spectacular view.
Echo Lake Trails
Located 16 miles E of Orr and 4 miles down the Echo Trail. 13 miles of trail, non motorized access only. Numerous trailheads and recreational opportunities for hiking, cross country skiing and biking.
The Mickey Elverum Bog Walk
.5 mile, handicap accessible board walk that allows you to see 4 types of MN bogs and floats on the Pelican River without getting your feet wet! Interpretive signs mark the many unusual plants that thrive in the acidic waters of the bog. Trail head at the Orr Information Center.
Cold Springs Deer Farm
22 miles North of Orr on Hwy 53 - Main attraction at the farm are the little spotted fawns. Cold Springs has the largest tame white-tail buck in this area, and all the deer can be hand fed. Picnic area available within sight of the deer.
Located 42 miles S of Orr on Hwy 53 in Eveleth. Has historical exhibits of hockey memorabilia, the Olympic Display and the Wall of Enshrinees.
North American Bear Center - Ely
See live bears in a 2 acre enclosure through windows or from the outdoor observation deck. Activity and education area, 50 video exhibits and more.
International Wolf Center - Ely
Features grey wolves in the north woods and daily programs.
Gheen Hill Trail
4 miles S of Orr. This 4.5 mile, multi use trail is open for hiking, mountain bikers, and cross country skiers. State permit is needed for use of this trail. Available at the Orr DNR.
Boise Inc.- International Falls
Mill Tour - Begins in early June and ends in mid-August three times a day. No children under 10 years old. Tour lasts an hour 15 minutes. Call 218/285-5011 for more information.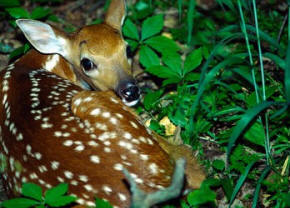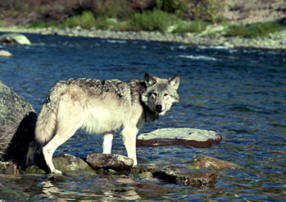 Minnesota Museum of Mining
Chisholm. Open for the summer. Monday-Saturday 9am-5pm - Sunday 1pm to 5pm. View over 50 pieces of mining equipment and other displays.
Discovers the past, present and future of Northeastern Minnesota. Trolley rides with scenic views, mini-golf, geology, events and walking trails. Museum open Memorial Day weekend through Labor Day
Iron Range Off-Highway Vehicle Recreation Area - Gilbert
Open to ATVs, OHVs, and 4x4 jeeps and trucks. 1,200 acre site with hill climbs, recreation trails, challenge and obstacle courses for off-road enthusiasts.
Mineview in the Sky-Virginia.
The 200 ft observation complex allows visitors to view the 3 mile long, 450 ft deep open pit from this 20 story overlook. Take a picture next to the "King of the Lode," a 240-ton mining truck.
Virginia Area Historical Society
Located in Olcott Park in Virginia. History of life in the area during the logging era. Very interesting exhibits. Park for recreation and playground for children.
Dorothy Molter Museum - Ely.
Take a trip through time and learn about Dorothy Molter, better known as the "Root Beer Lady." See her cabin and how she lived alone on an island, serving her home-made root beer to visitors.
Soudan. Mine tour is 1/2 mile underground where the temperature is 51 degrees so dress warm. Get a glimpse of the life of the miner and explore the underground mine itself on the ¾ mile trail ride. Experience the excitement of particle physics in action at the high-energy physics lab where scientists from around the world are trying to answer basic questions about the Universe.
Fortune Bay Casino and Boise Forte Heritage Museum & Gift Shop-Tower.
Two floors of gaming excitement as well as table games, restaurant and an excellent museum of 1,000 years of Chippewa Indian culture. Concerts and or special events monthly.
Birding and Wildlife in Voyageur Country
Trailheads map and bird checklist available at the Orr Information Center and at area resorts.
Smokey Bear Park-International Falls
Relax and enjoy the park and see the huge Smokey Bear statue.