Experience a Northern Minnesota Resort Vacation on Pelican Lake!
Welcome to Aspen Resort on Beautiful Pelican Lake in Orr, Minnesota. This Northern Minnesota resort offers the best of both worlds- Beautiful, new log vacation cabins with plush accommodations all nestled on a quiet, pristine bay on the north shore of Pelican Lake.
Our Pelican Lake Resort is a favorite Minnesota family vacation destination. We are surrounded by miles of undisturbed wilderness abounding with nature and waiting for you to explore. Venture out in one of our kayaks or paddleboat and don't be surprised to see a deer coming to the water for a drink or otters playing near the shore. The family of loons that you see while you are floating on the water can be heard every evening. Their cry is a distinctive northwoods sound that marks the end of the day and signals a peaceful night's beginning.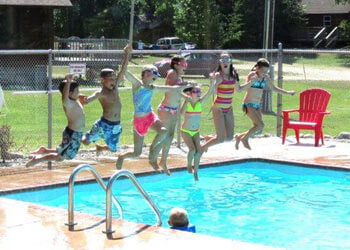 Aspen Resort offers the best in family vacation fun with a full time staff to help your family or group enjoy their vacation in any way. We offer scheduled children's activities, heated swimming pool and hot tub, paddleboat, kayaks, basketball court, volleyball, nightly campfires, Rainbow playground with forts and slides, sandy beach area and weekly hot dog roast and potluck.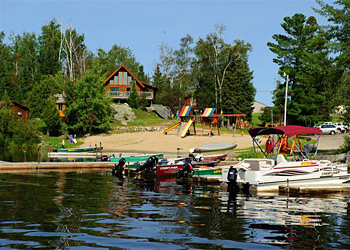 Pelican Lake is well known for its ease of Perch, Crappie, and Bluegill fishing for kids of all ages and is also a great game fish lake with Walleye, Largemouth Bass, Smallmouth Bass and Northern Pike. Each evening around 8:00 PM the staff starts a campfire in the center of the resort grounds inviting fisherman and families to exchange fish stories by firelight. Nothing beats a Minnesota Fishing vacation!!
Let Aspen Resort help you create your next family vacation memories. Come enjoy our new log lodge with stone fireplace, central air conditioning, game room, wireless internet and gift shop...Or relax in our new outdoor heated swimming pool and hot tub overlooking our unique unspoiled wilderness setting on beautiful Pelican lake.Site Map
No Pets Allowed at the Resort.